#BBNaija Day 39: Thread, Needles And Creativity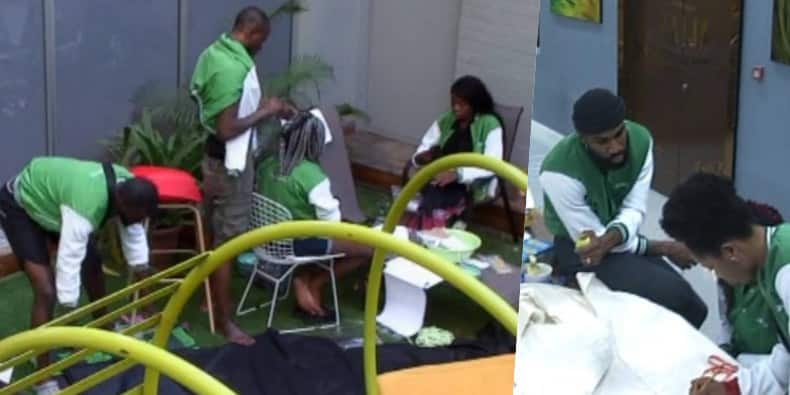 The Pepper Dem gang had a Runway Task from OPPO mobile and they made sure that all was in place to present a spectacular show.
Time To Get Serious
Similar to the 'Back to the 50s' Task, the Housemates are back on the sewing machine but this time, they get to strut their designs on the runway. Since the brief was read by the Head of House, the teams have been stretching the boundaries of their creativity on this Task. From creating needlecrafts to adding extra frills on their outfits, the Housemates are letting the continent know that they can do more than sleep all day. To maintain the element of surprise, the different teams had to look for secluded spots in the House to work so that other teams won't spy on their work. In this aspect, Seyi's team had an advantage as they had the Head of House room to work and hide their designs. We hope they blow our minds with their designer outfits.
On The Chilling Couch
Remember in school how during a group assignment some will work hard and others will relax? Well, the same thing played out in this Task and our eyes picked up on the active and inactive ones in each team. While some (Enkay, Venita and Tacha) were breaking their backs to ensure the best result is achieved, other team members were laid back and waiting for the part that concerns them. Omashola was the chief of this lot.
ALSO READ: Bbnaija: Venita Set To Share Gedoni With Khafi, Seeks Her Permission (Video)
In his Diary Session, Omashola told Biggie that sewing wasn't his thing but he loves to model hence his minor role in his group. Next to Omashola on the chilling couch is Ike. Ike who knew nothing about sewing was, however, the mannequin in his group as Frodd kept draping fabrics on him. At least someone found a way to make him useful. Mike was also on this ship. In Mike's case, he made himself useful by cooking for his team.
Into the wee hours of the morning, the Housemates worked. Hopefully, their efforts pay off.
Download BBNaija 2020 App (Click Here)
Follow Us for BBNaija Updates:
Twitter:
Follow BBNaija Updates
Telegram:
Android App:
Facebook: