"Most boring date ever" — Reactions as Biggie sets up romantic dinner for Adekunle and Venita (Video)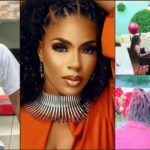 Biggie spiced things up for BBNaija All-Stars love birds, Adekunle and Venita as they get treated to a romantic dinner date.
On Friday evening, the show's couple got to enjoy a beautiful atmosphere filled with love, petals, and a sumptuous meal, courtesy of the show organizers.
Unfortunately, the dinner date went sour and awkward for the duo as Venita did most of the talking while Adekunle nodded most of the time.
They eventually ended the date with a subtle argument, leaving viewers with the conclusion of it being the worst ever on the reality show.
Reactions trailing Venita and Adekunle Olopade's romantic date
hrh_ese said: "Most boring date ever …. Adekunle is too dry abeg, just nodding his head like agama lizard"
sonia467438 penned: "CeeC said it that the ships in the house are not real. Now see the evidence



"
favvy_favourr opined: "So sorry to say but the man that will end up with venita will try oo


Dinner date wey other people dey enjoy, dey love up and strengthen relationship, venita use am dey criticize her supposed man


"
prettypellz stated: "Y'all should understand Adekunle's feelings isn't as invested in this relationship as Venita's. Venita initiated this and she bought the "Dinner date for two" with her moniepoint coin so Adekunle didn't.
Venita is 36 with two kids. Adekunle is 29, how do y'all expect that to work??"
legend.zino_ said: "Most boring date I have ever seen in my life ! Venita said she is irritated



Adekunle just Dey look like mumu bad boy Deks Abi mumu deks
."
Watch the video below …
Bruh Venita is toxic af and I'm sure Adekunle fears she'll treat his family the same way she treats people in that house. #bbnaijaAllstars pic.twitter.com/UuVqkjSPCV

— S E U N The Last Garri Bender (@SeunGabrielO) September 23, 2023
Download BBNaija App (Click Here)
Follow Us for BBNaija Updates:
Twitter:
Follow BBNaija Updates
Telegram:
Android App:
Facebook: